It has definitely taken some time, but in the year 2016 we do have a huge group of people who value Brand Identity and see it at par with their Marketing Communication Strategy. Corporate Identity is now valued by companies and considered as an integral part of the management. Today, companies have a range of products under their banner and not to forget, each one holds it own brand identity.
Brand Development is a crucial step for any company, product or service. Brand Development begins in our minds, then applied on to a paper and is finally finished (designed) on a Computer. But as the title questions, are Brand Identity and Marketing Communication linked or separate.
Identity is the bond between a consumer and a brand. To understand in simple terms, branding acts as a springboard for any brand to reach its consumer. It evokes emotion in the people that pull them towards the brand. A company's brand image is based on how good the working system is.
Brand Identity Development (Rebranding) of Windows from Microsoft, across the years.
Microsoft Windows logo has seen a number of revisions. Each revision has changed the way the company communicates. The changes have been inline with the time, but they definitely thought ahead of time. During the launch of the new brand identity of Windows, Microsoft posted an interesting message on their official blog –
"This wave of new releases is not only a reimagining of our most popular products, but also represents a new era for Microsoft, so our logo should evolve to visually accentuate this beginning."
Visual Expression
Starting from the company/brand name, logo, colors, website to other communication collaterals, every element has to belong to each other. Be it a big or a small company, an effective branding process is the key to step up.
Corporate Brand Identity: Among all the elements of Visual Expression, Brand Identity is the one that leads to the foundation of many other elements like fonts, colors etc. It is the one that separates you from the competitors for the audience in the market.
Corporate design transition (Rebranding) of one of the biggest company today, Apple
The first logo of Apple illustrates Sir Isaac Newton seated under an Apple tree. Later in the process, Apple covered with rainbow colors is displayed. A portion biten of the Apple has been used since then to not confuse the identity with a cherry.
Marketing Communication
The purpose of developing a strategy for marketing communication is to connect with the target audience and establish a recognition and remembrance.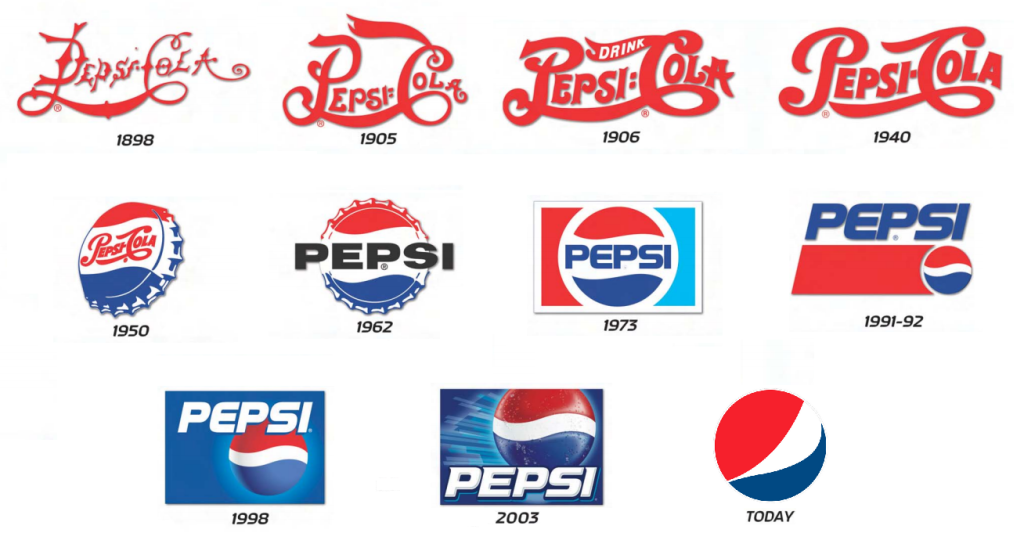 Pepsi has a history of simplifying (Rebranding) their Corporate Identity and Communication over time.
Pepsi not only rebranded their identity, but the change in identity also required change in packaging and signage. This cost them a huge sum but the cost was worth spending because they understood the value of spending such a huge sum on elements that would be the closest to their consumer.
We as an creative agency, aim to provide communication and valuable aesthetics in all our works. If you too are looking for a service related to Corporate Brand Identity, Rebranding or Marketing Communications Design then do get in touch with us to know how our solutions and logical thinking can assist you in communicating better.