9. Cadbury vs Nestle
Cadbury launched one of its most famous campaigns 'Meetha hai khaana, aaj pehli taareekh hai'. Nestle Munch, hit back with a tagline 'Khao bina taareekh dekhe'
Cadbury Ad

Nestle replies with 'Khao Bina Tareekh dekhe 'ad

---
8. Housing vs Commonfloor
Housing.com campaigned heavily on all mediums with their Look up Housing campaign. Their campaign definitely affected some of the other real estate sites and that's when Commonfloor bought a bill board over the one of Housing and made the most of the opportunity.
But what happened after that is a war of Photoshop where many brands kept on trolling each other.
It began here

This was just the start of an upcoming Photoshop war

and the flame was ignited

One of the best ones

The layer kept going higher

And more…

Some serious talk there 😛

Then came a time, when everyone went like 'Okay Stop It'

Neck Pain? That was expected

---
7. Pepsi vs Coke
When we talk about brand rivalry, there is one rival group that has been targeting each other since a long time now and they are no other than 'Pepsi and Coca Cola'. Both these brands have been at the creative best. The global advertisement war still goes on and is a example to many advertising and marketing professionals alike.
The war probably traces its history back to this ad

Then there is this

It just continued

Add more to the joy

The fight just got real here

Print wasn't behind either

Fans entered the show too

---
6. Kingfisher Airlines vs Jet Airways
Jet Airways announced to audience that 'They have changed' through a bill board. Kingfisher wasted no time to whip back at them by saying 'We made them change'.
GoAir decided to step in further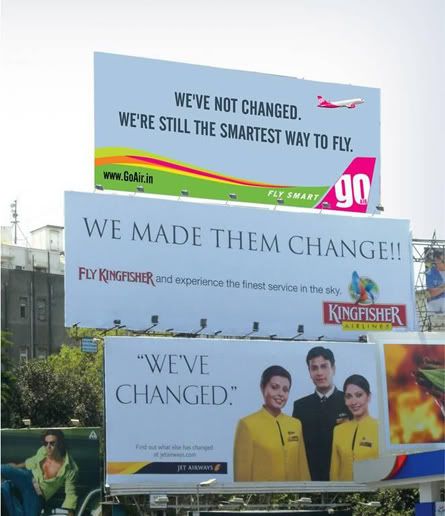 ---
5. Amazon vs Zomato/Ebay
Amazon aimed to target the Indian market through their AurDikhao campaign and planned to trend on Twitter by trolling over other brands.
Zomato around the same time had changed their logo few number of times, so Amazon saw an opportunity and tweeted to Zomato…

Tweet took twitter on a roll but when Zomato decided to hit back, there was a healthy war among the two as both weren't direct competitors.

Ebay decided to make the most out of this opportunity as they claimed to have more number of products listed on their site compared to Amazon.

---
4. Audi vs BMW
Apart from Pepsi and Coke, the advertising war between Audi and BMW is another example of fans trolling the competitor brand.
The war between two of the leading car manufacturers in the world began with a billboard in Los Angeles.
Here is a series of billboard ads that led to a brand war between Audi and BMW
This is how it began – Bill Board in LA
Then Audi replaced the bill board and challenged BMW
Challenge accepted by BMW

Then it was fans turn to reply

BMW Fans were no where behind

Finally Audi replied

The bill board war ended there but that wasn't the end of all

---
 3. Times of India vs The Hindu
TOI launched its 'the Wake Up' campaign, it featured Chennai readers (area where The Hindu has a strong hold) being put to sleep by a newspaper of boring news. Since then, there have been quite a few instances, when Hindu has mocked the Times of India. 'Stay ahead of the Times, read The Hindu' is one of those successful campaigns.
TOI vs Hindu ads
Then they took on each other via print ads

Recently came a fan troll on TOI
---
2. Mercedes vs Jaguar | USA
Mercedes-Benz introduced the whole new concept of Intelligent Drive Magic Body Control. This campaign went viral in 2013. The message this campaign got across was: "What do chickens and Mercedes-Benz have in common? Stability at all times."
Mercedes ad

Jaguar planned to make the most out of this campaign and by the end of the year. Their advertisement began in the same way as the chicken ad of Mercedes did. The ad showcased the similar concept of a chicken showing its body stability but what turned the tide towards Jaguar was the twist in the plot at the end. The message this ad gave was: "Magic Body Control? We prefer cat like reflexes, don't you?"
Jaguar's reply to that

Mercedes wasn't keeping quiet and all it took them was 3 days to utilise this opportunity and highlight one of their other features. This time though, it was a poster.
---
1. Microsoft vs Google Chrome
The rivalry between Microsoft and Google Chrome is not hidden. Things got exciting when both the giants decided to take each other on the big stage.
It was in 2013 when Google Chrome launched its animated video that was titled, Chrome: Now Everywhere.
Chrome ad

Microsoft directly took on the Chrome video by creating a parody video. They took 2 months and launched the Scroogled campaign to warn all the Chrome users of their privacy being preached. The parody video was launched under the title: Microsoft Internal Google Chrome Bouncing Ball Now Everywhere.
Microsoft's reply

Few months later, Microsoft started selling merchandise with anti-Google messages.
---
Missed out on the part 1 of the series? Read it here!
16 Brand wars of the century! – PART 1
Feel we have missed out any other brand wars? Feel free to share them with us in the comments section and we would be glad to add them in Part 3 of this series.
Note: None of the above showcased work is owned by Adams Creation. It is a collection to list down few of the brand wars in Advertising history and no harm is intended to any of the brands. Many of the artworks displayed here are fan made and are not to be confused with original ones.